Ceropegia Woodii Variegata
Also known as string of hearts variegated, chain of hearts, hearts entangled, rosary vine, sweetheart vine.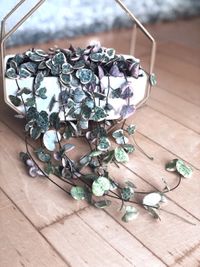 Introduction
The Ceropegia Woodii Variegata is a trailing plant native to South Africa with a delicate heart-shaped foliage and slender vines that can reach up to 12' long in its natural environment.
Worlds Most Advanced Vertical Garden Planter
Save space and grow in 4 squared feet up easily to 50 plants, herbs and/or vegetables organically. Enjoy your own food or create colorful corners with this tower.
Shop now
Beachnearby: Know every beach in the world like a local
Navigate through thousands of crowdsourced data and find out the best beaches near you to enjoy the summer.
See beaches
String of Hearts Variegata care
How much light does a String of Hearts Variegata need?

Place your String of Hearts where it can receive plenty of bright indirect light. Small doses of direct sun are good, however too much direct sun can scorch the leaves.
How to water a String of Hearts Variegata?

In the active growth period water sparingly, just enough to make the potting mixture barely moist, allowing the top two-thirds of the potting mixture to dry out between waterings.

During winter, water very sparingly, just enough water to prevent the potting mixture from drying out completely.
What's the ideal humidity for a String of Hearts Variegata?

Needs a moist environment with above average humidity. Stand on a pebble tray to improve humidity and mist frequently. Pop it in the shower for a while to give it an occasional boost.
How to fertilize a String of Hearts Variegata?

Apply a slow release fertilizer once a month during the growing season.
String of Hearts Variegata care tips

Don't place this plant in low light conditions or it will lose its color.

Don't over water it, the roots are skinny and can get root rot.

Let it dry before watering again.

This plant is dormant during winter
Reach out more than 11k people monthly!
Find potential customers, improve your digital presence and get noticed
Advertise now for 9$
Video tutorials of aspidistra care and tips
The videos might not be about exactly the same plant, but the same variety. In most cases, this not relevant because many of the varieties have the same requirements.
Discover trusty plant shops near you
Find amazing stores that people has recommended because of their quality
See shops near me